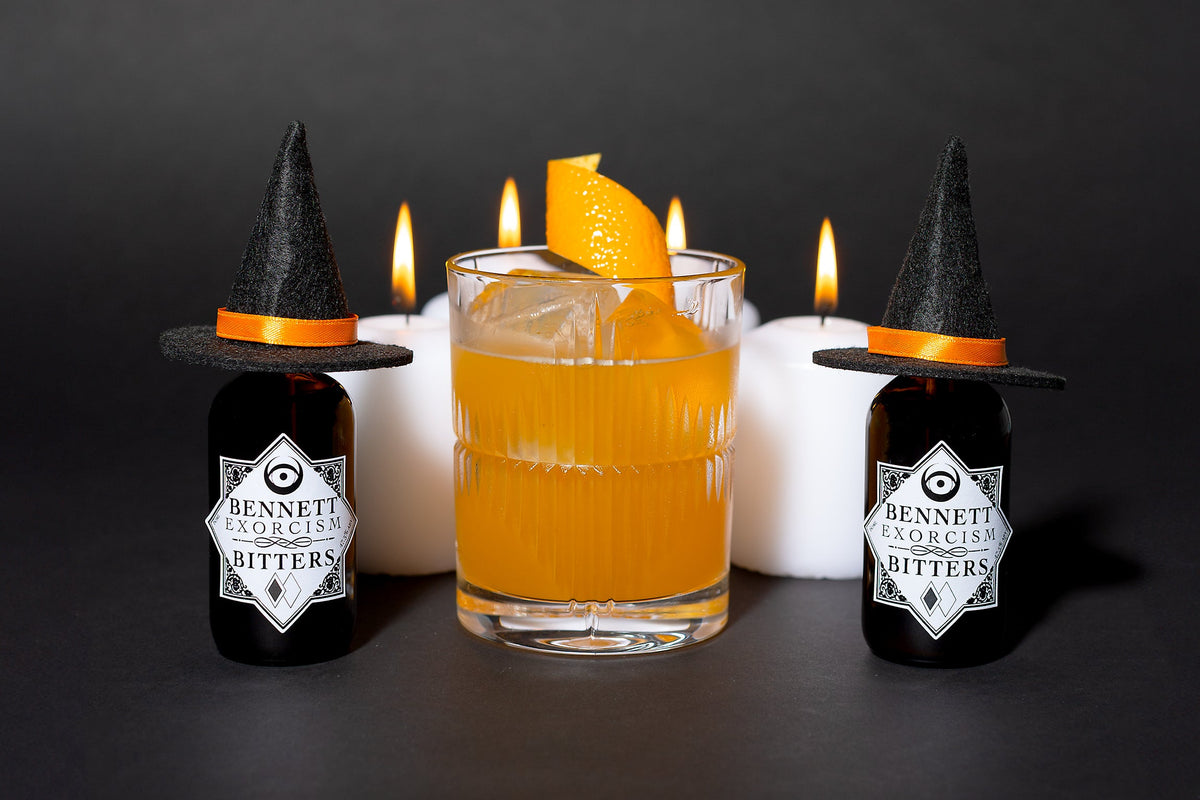 The Witch Hat is a spooky apricot sour with notes of candy corn and orange creamsicle. The flavors of this cocktail harken to the childhood magic of Halloween while delivering the complexity and balance of a mixological masterpiece. 
Impress your ghoulish Halloween guests at your next spooky soiree. For those who abstain from boozy brews, make the non-alcoholic version for you and your little goblins with some popcorn and a Halloween movie classic.

This apricot sour is made with our two spookiest flavors. The heat of Scorpion Bitters weaves rye, lemon, and Cointreau together. Exorcism Bitters add a mystical aromatic spice, lifting the apricot and vanilla to tremendous heights. The Witch Hat arouses the inner alchemist as it awakens different parts of the palette.

Start celebrating Halloween sooner than later, and maybe never stop? Make cocktail magic all year long.
What's in an Apricot Sour?
The three main ingredients in any Whiskey Sour are simply whiskey, sugar (via simple syrup), lemon juice; and an optional egg white for added texture. Both lemon and whiskey pair with many different flavors, so it's easy to find creative flavors to add to the basic sour template.
There are a few ways to get apricot flavor into a cocktail but for this apricot sour, we used apricot juice as a tasty, juicy, candy-like base. We wove in orange and vanilla notes to give the drink more complexity and fall time pizzaz.
Exorcism and Scorpion Bitters impart a pleasant warmth that makes this apricot sour the perfect drink to sip on by moonlight.
Can I make it a mocktail?
It is so easy to make this apricot sour non-alcoholic. Simply switch out the whiskey for an unflavored black tea, and replace the Cointreau with a little extra vanilla syrup to keep up the sweetness.
Apricot Sour Ingredients
We suggest you use organic ingredients whenever possible. Here's what you'll need to make this apricot sour recipe:
Rye - 

There is an ongoing tug of war between mixologists over which whiskey is best for a whiskey sour. Some die hard bourbon lovers enjoy their sours with a good bourbon. We prefer to make our apricot sour with rye, because rye has warming spice notes that compliment the flavor of both the lemon and apricot.




Fresh Lemon Juice - 

The flavor of fresh lemon juice is so much more complex than anything that comes from a bottle. The aromatic and flavorful oils from lemon peel gets into the juice when pressed, adding more zesty dimension to your apricot sour. 




Pre-squeezed lemon juice will keep in the refrigerator for about a week. Squeeze your own with a citrus press, an essential bar tool, here's the one we and many NYC mixologists prefer: Citrus Press




Vanilla Simple Syrup - 

Sugar, water and a vanilla bean is all you need to make your own vanilla simple syrup. To get the full vanilla flavor, it takes a total of about an hour to cook and cool off so make sure you plan ahead. 




Once cooled, you can use it for this apricot sour or countless other cocktails that call for vanilla simple syrup. It will stay good in the refrigerator for 2-3 weeks. Recipe is listed below.




Apricot Juice - 

You can't have an apricot sour without the apricot. We went straight to the source for this recipe and chose to use apricot juice, instead of a liqueur, for the fullest flavor. If you can get your hands on it, fresh is always best, but store bought apricot juice is perfectly acceptable for this apricot sour. 




Cointreau - 

One of the best parts of this apricot sour is the orange creamsicle flavor that comes from the addition of just a little bit of Cointreau. The little pop of orange gives the drink that classic candy flavor that makes us feel like a trick-or-treating kid again.




Exorcism Bitters - 

Aside from being one of the most Halloween appropriate cocktail ingredients out there, the Exorcism Bitters bring out flavors in the apricot sour that would be hidden without it. Notes of pepper and anise give the apricot sour an edge that elevates it to edible art.




Scorpion Bitters - 

One of the beautiful things about a clean and powerful spicy bitter is that you can easily regulate the amount of spice, to give a cocktail just a touch of heat. This apricot sour cocktail only uses five drops of Scorpion Bitters, but those five drops go a long way. They give this spooky apricot sour a pleasant warmth that makes it an even more alluring cocktail for a cold October night.
Don't know how to measure bitters? Check out our blog on all things bitters here: What Are Bitters?
Ingredients
1 oz Rye

.5 oz Vanilla infused Simple Syrup

.25 oz Cointreau

.75 oz Lemon Juice

2 oz Apricot Juice

2 Droppers Exorcism Bitters

5 Drops Scorpion Bitters
Garnish
Flamed Orange Zest
Glassware
Rocks Glass
Non-alcoholic version
1 oz Black Iced Tea

.75 oz Vanilla infused Simple Syrup

.75 oz Lemon Juice

2 oz Apricot Juice

2 Droppers Exorcism Bitters

5 Drops Scorpion Bitters
Vanilla Infused Simple Syrup
2 cups Water

2 cups Organic White Sugar

1 Vanilla Bean sliced down the middle
Combine all ingredients in a sauce pan and simmer for 30 minutes, stirring occasionally. Remove from heat and let cool. 
Directions
Step 1
Combine all ingredients in a shaker with ice. 
Step 2
Shake and double strain into a rocks glass with ice.
Step 3
Hold a match under an orange peel and squeeze the peel to spritz a small fireball of orange oil over the drink.
Step 4
Garnish with orange peel.
Additional Info
ABV: 9.1%
Standard Drinks: .9
Calories: 173
Shop the Recipe
You may like these too...