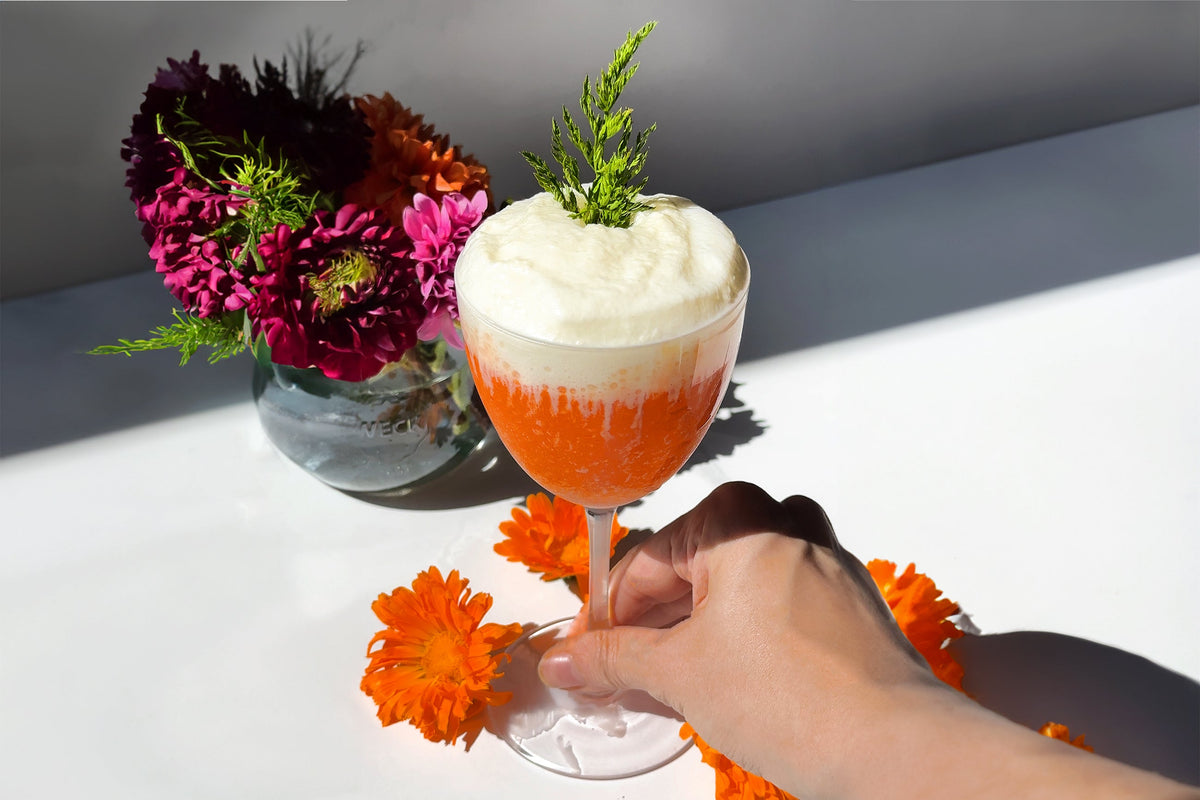 The Carrot Cake - Tiki Carrot Cocktail
Fall time always conjures memories of home and holidays, accompanied by the smell of cookies and cakes fresh from the oven; the aromatics of baking spices wafting in the air. This fall flavor profile is perfectly embodied in The Carrot Cake: an autumnal carrot cocktail masterpiece.
Made with fresh pressed carrot, pineapple, and lemon juice, pecan orgeat, Glenfiddich 12 yr single malt scotch whisky, and Bennett Cocktail Bitters to impart this carrot cocktail with classic aromatic baking spice. 
True to it's inspiration, this drink is not too sweet, a little vegetal, yet still curiously cakelike. This beautifully balanced carrot cocktail is topped with a cream cheese foam for the full fantasy of carrot cake in a cocktail.
How to Make a Carrot Cocktail Taste like carrot cake
Isn't it amazing how the carrot in carrot cake tastes so fresh? We used fresh pressed carrot juice to achieve that lively flavor for the base of this carrot cocktail.
The cake flavor in this carrot cocktail comes from the use of Glenfiddich 12 yr, with its bready notes, and from the creamy quality of pecan orgeat. We chose pecan, a classic carrot cake ingredient, for this orgeat, to add nutty notes to the carrot cocktail and enhance the velvety texture of the carrot juice.
The addition of pineapple is inspired by "kitchen sink" versions of carrot cake (with additions like pineapple chunks and shredded coconut). The pineapple pairs perfectly and brings sour balance to the sweetness in the carrot cocktail, with a teeny touch of tropics.
Of course, this carrot cocktail would not taste much like carrot cake at all without the essential baking spice flavors delivered by Bennett Cocktail Bitters.
Tips:
The delicious concerto of flavors that go into this carrot cocktail take quite a bit of prep time, so make sure you plan accordingly.

While this drink is perfect for fall, it also makes a perfect Easter cocktail and brings elegant whimsy to other springtime festivities.

MAKE IT A MOCKTAIL - Simply omit the Scotch to make this a wonderful and satisfying carrot mocktail.
What is orgeat?
Though this is a carrot cocktail, we would file it in the category of Tiki drinks, as it's made with fresh fruit, has plenty of spice from aromatic bitters, and includes a classic tiki drink ingredient: orgeat.
Orgeat is essentially a sweetened nut milk syrup. It is typically made with almonds, sugar, and sometimes rosewater or orange flower water. It is an essential ingredient for many tiki drinks, including the famous Mai Tai.
Whether you're making this carrot cocktail or experimenting with tiki, you can easily make orgeat yourself with our orgeat recipe. It's simply a matter of soaking your choice of nuts in water, then straining, blending, and straining again; until you have a creamy nutmilk that you can sweeten to your preference.
Cream Cheese Foam
The cream cheese foam is literally the icing on the cake. It provides a savory and fluffy experience that compliments the sweetness of this elegant and delicious carrot cocktail.
If you are okay with a pourable foam reminiscent of the cheese foam you might find at a boba tea shop, you may be satisfied using an electric hand mixer to make yours.
I prefer to add my foam mixture to an iSi food whipper and aim to make as stiff a foam as possible, for the sake of a tighter texture and to make it easier to prop up the garnish for the carrot cocktail.
Tips:
The cream cheese should be completely room temperature.
Beat cream cheese and other ingredients (except cream) until fully mixed and soft.
Use COLD CREAM and incorporate last, so you don't over whip the cream, causing it to deflate.
Carrot Cocktail Ingredients
We suggest you use organic ingredients whenever possible. Here's what you'll need to make this carrot cocktail recipe:
Scotch - 

We chose Glenfiddich 12 yr Single Malt Scotch for our carrot cocktail. You can use a similar Speyside Single Malt of your choice as long as it has a malty and delicate apple/pear profile. Or, omit the alcohol to make it a mocktail.




This kind of single malt imparts a bready, cakey flavor to the carrot cocktail. The 12 year aging in oak barrels creates a smooth flavor profile and mouthfeel. This spirit integrated perfectly into the carrot cocktail without the heat and harsher notes that we tasted when trying to make it with bourbon or rye.




Carrot Juice - 

The most essential ingredient in this carrot cocktail is, of course, the carrot juice. We used organic carrots and passed them through a masticating slow juicer which yields "cold pressed" juice, as its slow churning single mechanism doesn't heat up, preserving all the nutrition and flavors from your fruit and vegetables. This juicer gave us a lusciously textured carrot juice as luxurious as Single Malt Scotch.




Pineapple Juice- 

Included as a member of the kitchen sink family of carrot cakes, pineapple brings a delightfully tropical and bright counterpart to earthy and sweet carrot. The fresh pineapple flavor in this carrot cocktail is also best achieved with the same slow juicer we used for the carrots.




Here is the king of slow juicers. It's not cheap, but we can attest that it will work for decades: Omega Juicer.
Fresh Lemon Juice - 

When squeezed with a citrus press, the aromatic and flavorful oils from lemon peel get into the juice, adding more zesty dimension to your carrot cocktail. Pre-squeezed lemon juice will keep in the refrigerator for about a week.




Pecan Orgeat - 

We passed on the traditional almond orgeat, as most carrot cakes include walnut or pecan. The use of pecan gave us a particularly rich orgeat, as pecans are one of the top 3 most oil-rich nuts. 




If you're wondering what orgeat tastes like besides nutty; it doesn't taste particularly sweet, which plays well in a carrot cocktail, where many of the ingredients have mild sweetness.




Cream Cheese Foam - 

Savory, sweet, and fluffy; the cream cheese foam is a perfect counterpart to the base of this carrot cocktail. 




You can pour the mixture for the foam into an iSi whipper, charge, and chill until you're ready to make your carrot cocktail. Alternately, you can beat the mixture with your hand mixer until it is fluffy and pourable. 




Cocktail Bitters - 

This carrot cocktail was surely born long ago, as we took our inspiration from carrot cakes when we created our Cocktail Bitters. We were inspired by the balance, baking spice profile, and mellow sweetness; even using organic carrots in our Cocktail Bitters. 




This carrot cocktail would not taste much like carrot cake at all without the essential fall spice notes of our bitters. Full of baking spice aromatics like cinnamon and nutmeg, clove and cardamom, Cocktail Bitters sneak in layers of flavor.
Don't know how to measure bitters? Check out our blog on all things bitters here: What Are Bitters?
The Carrot Cake - Tiki Carrot Cocktail
Ingredients
1 oz Glenfiddich 12yr Single Malt Scotch

2 oz Carrot Juice

1 oz Pineapple Juice

.5 oz Lemon Juice

1 oz Pecan Orgeat

3 droppers of Bennett Cocktail Bitters

Cream Cheese Foam
Garnish
Single Carrot Frond
Glassware
Nick and Nora
Non-alcoholic version
2 oz Carrot Juice

1 oz Pineapple Juice

.5 oz Lemon Juice

1 oz Pecan Orgeat

3 droppers of Bennett Cocktail Bitters

Cream Cheese Foam
Pecan Orgeat
1 cup Pecans
500 ml Water
60 g White Sugar
5 g Muscovado Sugar
1/8 tsp Vanilla Extract
1 pinch Salt
Cream Cheese Foam
150 g Cream Cheese
200 ml Cream
100 ml Milk
40 g Confectioner's Sugar
Directions
Step 1
Make Pecan Orgeat
Step 1
Combine pecans and water in a jar, cover and leave in the fridge overnight.
Step 2
Pour out water and combine soaked pecans with 500ml of water in a blender.
Step 3
Blend for 60 seconds.
Step 4
Let the mixture sit for two hours, then strain out the solids through cheesecloth. The yield is your nut milk.
Step 5
Combine the nut milk with sugar, vanilla extract, and salt in a sauce pan over medium heat.
Step 6
Stir and warm until sugar is completely dissolved. Do not let it boil. 
Step 7
Allow the mixture to cool, pour in a clean container, and refrigerate.
Step 2
Make Cream Cheese Foam
Step 1
Take cream cheese out of the fridge and leave out until it is at room temperature.
Step 2
Combine all ingredients except for cream in a bowl, and whisk until the mixture is soft and the cream cheese is fully incorporated.
Step 3
Beat the cold cream into the cream cheese mixture until fully incorporated. If you're using an iSi, move on to step 4. If you don't have an iSi, continue to beat the mixture until it stiffens into a pourable or scoopable foam. Be careful not to overbeat, which will deflate your foam.
Step 4
Pour mixture through a sieve, into a 500ml iSi cream whipper and charge with a N2O charger.
Step 5
Shake 15 times and place iSi in fridge on its side overnight.
Step 3
Make Carrot Cake Cocktail
Step 1
Combine all ingredients except cream cheese foam into a shaker with ice.
Step 2
Shake and double strain into a Nick and Nora glass.
Step 3
Top with cream cheese foam.
Step 4
Garnish with carrot frond and enjoy.
Additional Info
ABV: 5.6%
Standard Drinks: .66
Calories: 346
Shop the Recipe
You may like these too...