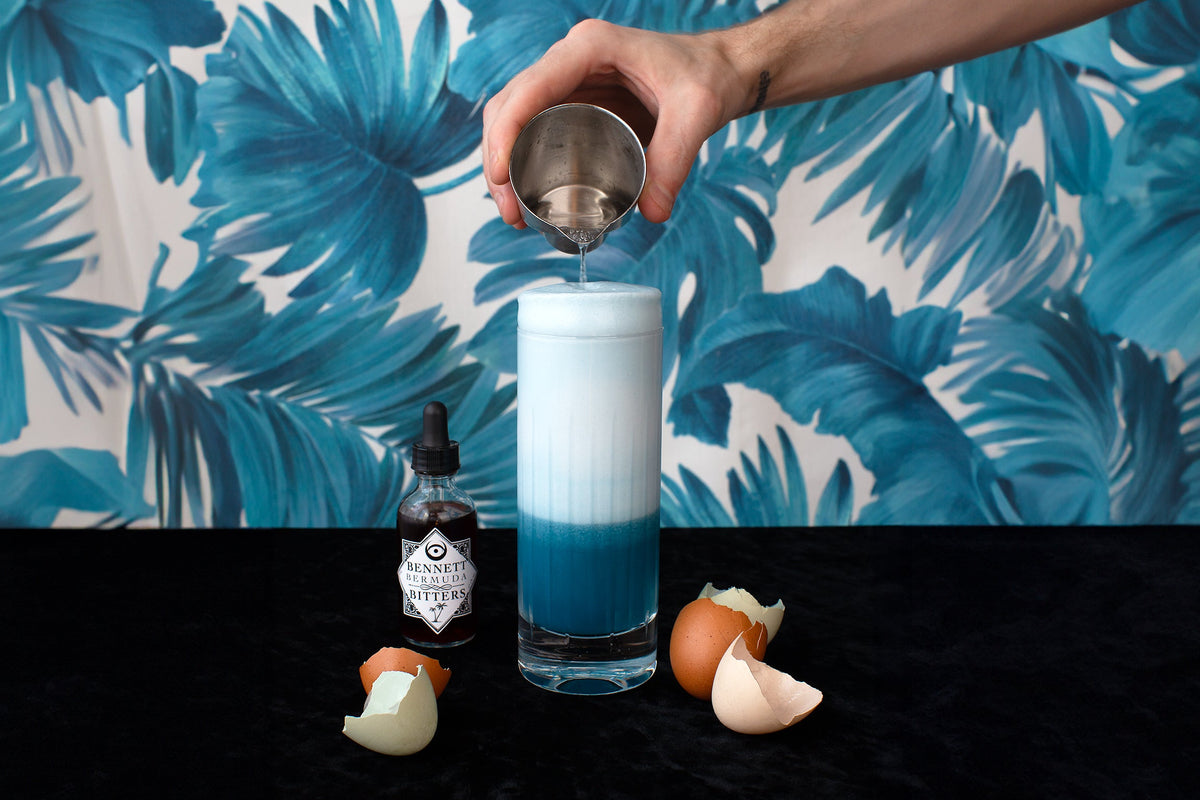 The Poseidon - Blue Gin Fizz
This cocktail came to Yana's mind while laying in bed one sleepless night. A silky, frothy blue gin fizz that conjures the tranquility of a tropical beach.
A love song to the sea. This blue gin fizz cocktail variation is made with blue algae powder, which is flavorless, but creates an awe inspiring tropical oceanic hue. 

This refreshing and tart blue gin fizz cocktail is decidedly dry with its citrus and egg white. Vanilla simple syrup adds tropical tones enhanced by Bermuda Bitters's tiki spice, floral, and fruity flavor; bringing complexity and depth to this classic gin cocktail variation.
What's so special about a gin fizz?
While egg white cocktails are pretty commonplace in mixology, it might seem a bit strange to use a raw egg in a cocktail. Eggs and milk are traditional ingredients that were often used in the so called pre-prohibition golden age of cocktails.
Adding egg white to a cocktail results in a drink with a silky mouthfeel and a satisfying foam head (ex. whiskey sours). The egg white also mellows some of the harsher elements of both spirit and citrus, making drinks like this blue gin fizz super smooth and harmonious.
The key ingredient of a gin fizz, aside from gin, lemon, sugar, and egg white, is the soda water. Soda water puts the "fizz" in gin fizz. It adds effervescence, lengthens the cocktail and lifts the foam. Creating a long, iceless drink meant for drinking, not sipping.
Tips:
Dry shake, in a circular motion, using a room temperature egg white for an extra foamy blue gin fizz.
Chill your glassware before preparing the drink, as it is served with no ice.
Gently tap the filled collins glass on a table or bar top before adding soda water to build and stabilize the foam.
How to make a blue gin fizz cocktail
This blue gin fizz is an astoundingly rich blue color from the use of Blue Majik algae powder. Don't let the name scare you, it may look like the sea, but it doesn't taste like the ocean.
While using this ingredient as a supplement, Yana ran into some trouble getting it to fully incorporate into drinks that didn't involve a blender. She eventually realized that using bar techniques was the key.
A powerful shake in a tin was the trick to fully dissolving this powdery deep blue ingredient. Once the mystery was solved, Blue Magik became a staple in our home bar and resulted in the invention of blue drinks like The Poseidon blue gin fizz.
What is a dry shake?
Why dry shake? Does it matter? Do I have to?
All drinks made with egg white often include instruction to dry shake. And yes, it does matter, and is required to make this blue gin fizz.
The theory behind dry shaking is that the proteins in the egg white will emulsify better at room temperature and froth more if the cocktail ingredients are shaken together before chilling.
Dry shaking is usually done as a first shake, then ice is added, and the drink is shaken a second time. There is also a "reverse dry shake" technique in mixology. This involves shaking ingredients with ice, discarding the ice, and shaking the cocktail again without ice.
Blue Gin Fizz Ingredients
We suggest you use organic ingredients whenever possible. Here's what you'll need to make this blue gin fizz recipe:
Gin - 

As a spirit whose defining feature is that it is infused with botanicals, gins are a diverse spirit with many different expressions. The Poseidon blue gin fizz cocktail is easy to modify just by experimenting with different gin types. 




We tend to reach for floral forward gins for light and bright drinks like the blue gin fizz. Hendricks which is made with rose and cucumber or Nolets Silver which is made with rose and raspberry are both personal go-tos for this drink.




Fresh Lemon Juice -

Freshly squeezed lemon juice from a citrus press, is a must. The aromatic and flavorful oils from lemon peel get into the juice and add depth and dimension to the drink that it's being used for. In a clean, gin forward drink like The Poseidon blue gin fizz, it is an essential ingredient you can really taste with each sip. 




Vanilla Infused Simple Syrup - 

Sugar, water, and a single vanilla bean is all you need to make your own vanilla simple syrup. In a pot, combine a vanilla bean split lengthwise and organic white sugar with water in equal parts. Warm up the mixture on low heat so that the sugar is just dissolved.




Once cooled you can use it for your blue gin fizz or any other cocktails that call for vanilla syrup. Try it in any drink you feel would benefit from a touch of vanilla instead of plain simple syrup. It will stay good in the refrigerator for 2-3 weeks.




Egg White - 

The structured foam that sits on top of the blue gin fizz comes from the addition of egg white in the drink. Not only does egg white add an attractive creamy looking head to a cocktail, it also adds a silky mouthfeel and unctuous body. 




If egg isn't your thing, you can swap it for aquafaba.
Blue Majik - 

The blue color created by Blue Majik algae powder must be seen to be believed. A natural way to make a blue gin fizz, it is also an antioxidant rich powder that is flavorless when dissolved into foods and beverages.




Blue Majik has a tendency to clump up when it's not whipped, beaten, or blended by a swift wrist or machine. We have found the best way to dissolve this powder is in a cocktail shaker.




Soda Water - 

Whether you make your own, or crack open a can, soda water is an essential ingredient. The effervescence of bubbles puts the fizz into a blue gin fizz.




The tingly sensation of soda water is refreshing and makes for a textural delight when combined with the silkiness of egg white. The bubbles help release aromatic compounds in the gin, vanilla syrup, and Bermuda Bitters for a bigger, bolder flavor.




Bermuda Bitters - 

Our botanical bitters add tropical tasting notes to this blue gin fizz cocktail. The warm tiki spice from cinnamon and pink peppercorn add deep dimension, while vanilla and banana round out the sharp and sour elements. 




Using Bermuda Bitters in any cocktail adds instant beach vibes and as the gin fizz is a wonderfully clean and crisp recipe template, it allows the complexity of these bitters to come forward and shine.
Don't know how to measure bitters? Check out our blog on all things bitters here: What Are Bitters?
The Poseidon - Blue Gin Fizz
Ingredients
1 Egg White

1.5 oz Gin

.75 oz Lemon Juice

.75 oz Vanilla infused Simple Syrup

.5 tsp E3 Live Blue Majik

2 Droppers Bermuda Bitters

Soda Water
Vanilla Infused Simple Syrup
2 cups Water

2 cups Organic White Sugar

1 Vanilla Bean sliced down the middle
Combine all ingredients in a sauce pan and simmer for 30 minutes, stirring occasionally. Remove from heat and let cool.
Directions
Step 1
Combine all ingredients in a shaker without ice.
Step 2
Shake intensely for at least 30 seconds.
Step 3
Add ice to shaker and shake intensely for at least one minute.
Step 4
Double strain into collins glass without ice.
Step 5
Gently tap the collins glass onto a table top and allow to settle for 20-30 seconds.
Step 6
Slowly pour seltzer water into the center of the drink until the foam has risen above the lip of the glass. Keep pouring until the foam looks like it might collapse over the edge of the glass.
Step 7
Take a picture and share it with all of your friends!
Additional Info
ABV: 6.3%
Standard Drinks: 1
Calories: 194
Egg White Warning
Consuming raw and lightly-cooked eggs poses a risk of food-borne illness. 
If you're not a person who lives life in the fast lane, be warned, using egg white in your cocktail may not be for you. 
Shop the Recipe
You may like these too...