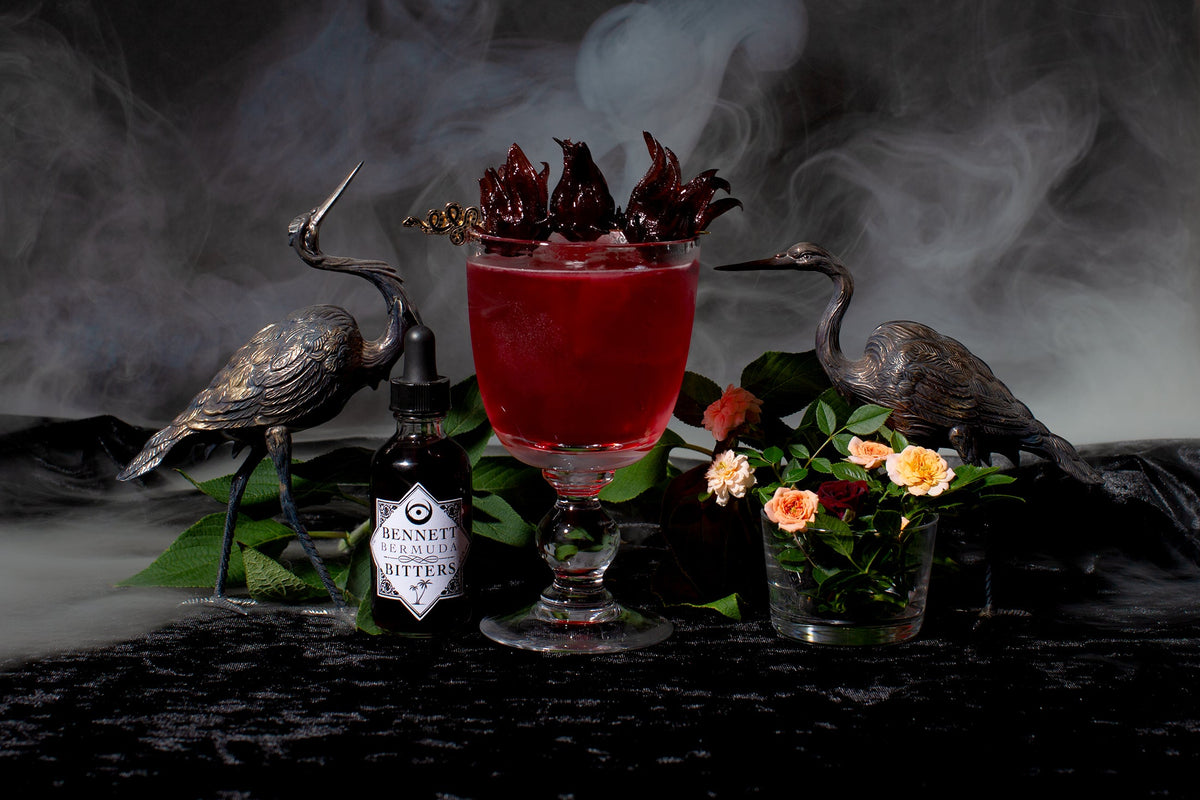 Bad Blood - Strawberry Gin Sour
The Bad Blood is a recipe we love to sip in the summertime, but it shines best for Halloween, as it resembles something a vampire might drink at a party or the beach.
This deep red tropical strawberry gin sour variation is bloody delicious and easy as pie to make non-alcoholic. Just hold back the gin and you've got an anytime sipper, or a bold palate cleanser to compliment meals. Pair where you would typically serve wine. 

This strawberry gin sour is perfectly tart with a hint of sweet. Baking spice from Cocktail Bitters add adult sophistication. Bermuda Bitters add instant paradise with their tiki spices and exotic fruit flavors.
What makes it a bad blood?
The Bad Blood is made with a strawberry tea that turns this drink a strong, beautiful ruby red color. When served during spooky times of the year, this cocktail conjures vampire vibes; perfect for a Halloween party. Serve in a goblet to increase the effect.
This fruity and floral strawberry gin sour also works in warmer weather with it's tropical flavors. Strawberry and hibiscus are cooling and refreshing, while the spice of Cocktail Bitters warms up the flavor profile with a touch of fall, yet Bermuda Bitters bring you back to the beach with banana, vanilla, and sweet cinnamon.
To execute this strawberry gin sour recipe, you first have to make the recipe for the strawberry hibiscus tea. This is a cold infusion that happens in the fridge for 24 hours, so plan ahead.
What's in a Gin Sour?
A Gin Sour is simply gin, sugar (via simple syrup), and lemon juice. This easy and classic cocktail template, like it's sister the Gimlet, is a perfect starting point for creating endless variations or "riffs" as we call them in the bar world.
A strawberry gin sour's flavor profile can change quite a lot depending on the gin that is used to make it. Gin is made by infusing botanicals into spirit, a little like the process of making bitters, except that gin is infused through steam-distillation. 
The choice of botanicals varies from gin to gin, so consider this when making a strawberry gin sour or other gin based cocktails.
Can I make it a mocktail?
Yeah. Why not? It won't be a strawberry gin sour anymore, but if you switch out the gin for extra strawberry hibiscus tea or a non-alcoholic spirit you'll have a delicious Bad Blood mocktail to serve to you and your sober friends.
Strawberry Gin Sour Ingredients
We suggest you use organic ingredients whenever possible. Here's what you'll need to make this strawberry gin sour recipe:
Gin - 

This spirit has such a diverse range of flavors that the gin you choose can have a big impact on the final flavor of your strawberry gin sour. Generally speaking, London Dry gins like Tanqueray and Beefeater tend to have flavor profiles with more piney, lemony flavors from the juniper. 




Because the flavor profile of this strawberry gin sour is more floral and fruity, we prefer gins that have complimentary flavor profiles: Hendricks which is made with rose and cucumber or Nolets Silver which is made with rose and raspberry. 




Fresh Lemon Juice - 

The flavor of fresh lemon juice is so much more complex than anything that comes from a bottle. The aromatic and flavorful oils from lemon peel get into the juice when pressed, adding more zesty dimension to your strawberry gin sour. 




You can pre-squeeze your lemon juice ahead of time. It will keep in the refrigerator for about a week. Squeeze your own with a citrus press, an essential bar tool. Here's the one we and many NYC mixologists prefer: Citrus Press




Simple Syrup - 

Sugar and water is all you need to make your own simple syrup. In a pot, combine organic white sugar with water in equal parts, and warm up the mixture on low heat so that the sugar is just dissolved. 




Once cooled you can use it for your strawberry gin sour or countless other cocktails that call for simple syrup. It will stay good in the refrigerator for 2-3 weeks. 




Strawberry Hibiscus Tea - 

The alluring deep red color of this infusion is only rivaled by it's addictive floral and fruity flavor. We often use this juicy tea as a mixer, but also drink it straight, or on the rocks. If you are making strawberry gin sours, we highly recommend you make lots of extra tea to experiment with. 




It is so easy to make. Just add the hibiscus and strawberries to water, and leave overnight in the fridge to make this cold infusion.  




Cocktail Bitters - 

Full of baking spice aromatics like cinnamon and nutmeg, Cocktail Bitters sneak in layers of flavor that compliment and balance the other ingredients in this strawberry gin sour. 




Aromatic bitters like Cocktail Bitters are most commonly known as an essential ingredient for cocktails like the old fashioned, but their effectiveness in a bright and refreshing strawberry gin sour should not be underestimated. 




Bermuda Bitters - 

These tropical bitters heighten the fruit flavors of this strawberry gin sour. The warm tiki spice from cinnamon and pink peppercorn add deep dimension, while vanilla and banana round out the sharp and sour elements. 




Using Bermuda Bitters in any cocktail adds instant beach vibes, however, the effect is most obvious when paired with a clean fruit forward cocktail like a strawberry gin sour.
Don't know how to measure bitters? Check out our blog on all things bitters here: What Are Bitters?
Bad Blood - Strawberry Gin Sour
Ingredients
1 oz Gin
2 oz Strawberry Hibiscus Tea (see below)
.75 oz Fresh Lemon Juice
.75 oz Simple Syrup
4 dropperfuls Bermuda Bitters
1 dropperful Cocktail Bitters
Non-alcoholic version
3.25 oz Strawberry Hibiscus Tea 

.75 oz Lemon Juice

.75 oz Simple Syrup

4 dropperfuls Bermuda Bitters

1 dropperful Cocktail Bitters
Strawberry-hibiscus Tea
8 oz Fresh Strawberries, sliced

4 tbsp Dried Hibiscus Flower

1 quart Water
Add strawberries and hibiscus to water in a glass vessel you can seal or cover. Steep for 24 hours in the fridge then strain out hibiscus and strawberries.
Directions
Step 1
Combine all ingredients in a shaker with ice.
Step 2
Shake and double strain into a goblet with ice.
Step 3
Garnish with whole hibiscus flowers.
Additional Info
ABV: 8.5%
Standard Drinks: .7
Calories: 142
Shop the Recipe
You may like these too...