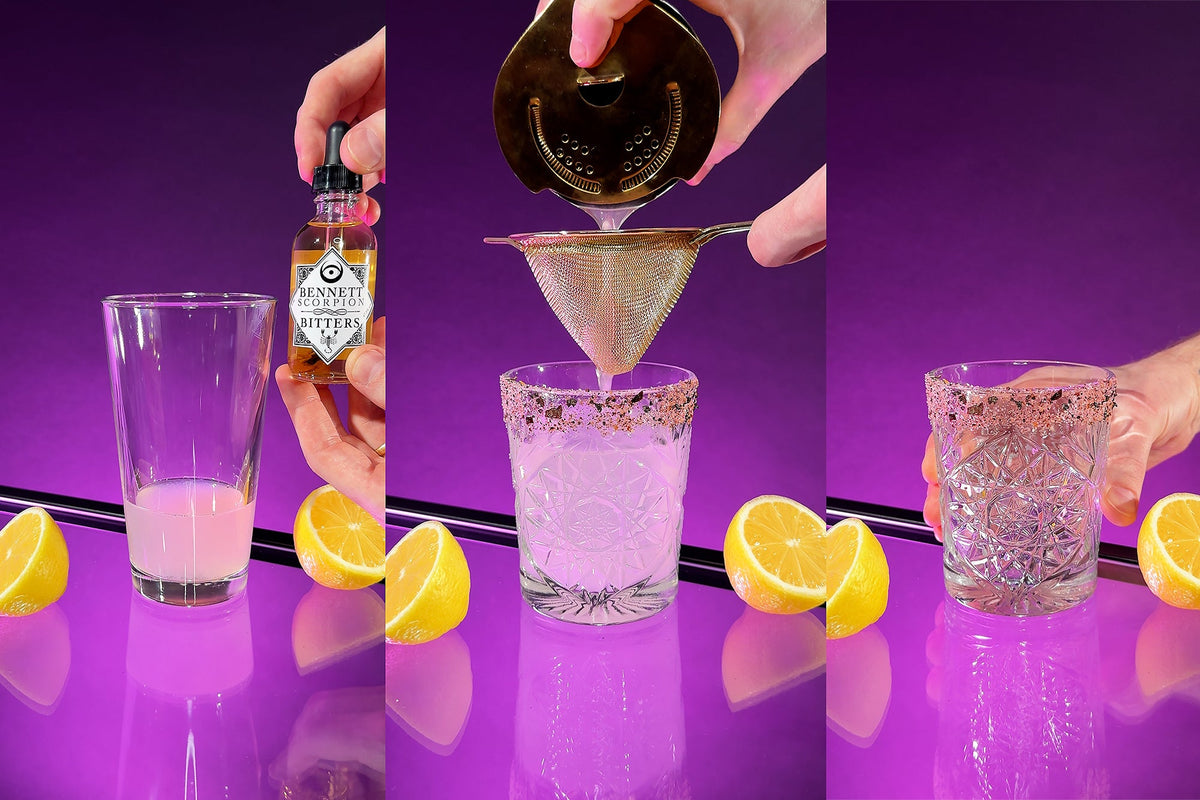 Silencio - Mezcal Margarita
The first mezcal margarita I ever tasted was an Adelita I had while traveling in Mexico. Once I returned to the States, I set about to recreate and elevate the flavors in that mezcal margarita that I found to be so entrancing.
The Silencio is an ode to that margarita and all margaritas, one of the single most beloved and imbibed cocktails on the planet.
The mesquite wood smoked chili salt is made with chilis that are more umami than spicy, a perfect accompaniment to the smoky, leathery flavors inherent to mezcal. The balance of Cointreau orange liqueur and agave gives the sweetness more depth and structure.
Spicy Scorpion Bitters add the perfect layer of spice to this mezcal margarita. A supreme heat that doesn't overpower the nuance of the mezcal. Feel free to pump up the heat to your hearts desire as these bitters won't blow out flavors, or your palate.
I passionately perfected the Silencio recipe and whenever I put this drink on the menu at a bar I managed, it became an instant hit. It was the margarita lover's margarita.
What Makes a Good Mezcal Margarita
The best mezcal margaritas are perfectly balanced, use quality ingredients, and have a distinct spicy element. 
The secret to achieving balance in a mezcal margarita has to do with the proportion of citrus to sweetener. I always use both Cointreau and agave for my mezcal margaritas so that the Cointreau can provide a hint of orange while the more luxurious sweetness of the agave can balance out the astringent tartness of the lemon. 
Mezcal has such a distinct and bold flavor profile that it inevitably becomes the star of the show. For best results, choose a high quality mezcal that you enjoy sipping on its own. This will ensure that you craft a mezcal margarita that tastes best for your palette. 
A spicy element is essential for a mezcal margarita. Scorpion Bitters provide an intense spice but allow the drinker to still taste the cocktail through all the heat. The extra layers of flavor make the cocktail so complex and delicious that it seems like mezcal was made for spice.
What's the Difference Between Mezcal and Tequila?
Mezcal and tequila are closely related spirits with a lot of similarities. Even though mezcal is lesser known than tequila outside of Mexico, it is a much broader category with dozens of varieties and options.
Tequila is only made in the state of Jalisco with the Blue Weber varietal of agave. Because tequila is made in one region and with one varietal of plant, it tends to have a relatively uniform flavor profile between distilleries.
Mezcal is an agave spirit that is produced in ten different states of Mexico. Since mezcal is produced in a variety of terroir with completely different varietals of agave, the flavor profile will differ drastically from distillery to distillery. Some will be sweeter, some earthier, some gamier, some smokier. Tequila is technically a mezcal even though it is rarely referred to as such.
Best Mezcal for a Mezcal Margarita
Mezcal has a huge range of styles which makes a big impact on the final flavor of a mezcal margarita. For the best mezcal margarita, it's important to choose the mezcal that works best for you. Here are some of our favorites:
Del Maguey Vida: Found behind most bars, this mezcal is one of the most mixable bottles on the market. Its fruity and smoky notes blend phenomenally well with the citrus and spice in a mezcal margarita.
Montelobos: If you enjoy a more herbaceous spirit, Montelobos is the way to go. It has a peppery and herbal flavor profile which will make for a delightfully complex mezcal margarita.
Sombra: If you are a fan of fire roasted flavors, Sombra will be the mezcal for you. It does not shy away from its smokiest notes of campfire while still making plenty of space for vanilla and citrus. It is highly recommended for a spicy mezcal margarita in need of a beefier flavor profile.
Mezcal Margarita Ingredients
We suggest you use organic ingredients whenever possible. Here's what you'll need to make this mezcal margarita recipe:
Mezcal - 

Mezcal is the essential ingredient that differentiates a mezcal margarita from a regular margarita. For the Silencio we recommend using a Joven Espadín.




Joven means it is "young" or unaged, like a blanco tequila. Espadín is a very mixable varietal of agave plant and mezcals made from it are extremely popular. Del Maguey Vida and Sombra are both examples of Joven Espadín mezcal and are highly recommended for this mezcal margarita.




Fresh Lemon Juice - 

For most cocktails I highly recommend using fresh squeezed lemon juice, but for a mezcal Margarita I would tell you to not even bother if you don't have fresh juice. The freshness of the lemon juice and the oils from the peel are an absolute must for this cocktail. If you don't have a good way to make fresh lemon juice at home, we recommend this citrus press from Cocktail Kingdom.




Cointreau - 

This is a classic orange liqueur that can be used for any recipe that calls for "triple-sec." Cointreau has a more balanced and well rounded flavor profile than triple sec. It's elegant orange flavor profile makes it my personal go to for a mezcal margarita.




If you can get your hands on it, try a mezcal margarita with this orange liqueur from Mexico, sometimes credited with appearing in the first margarita recipes. It was the orange liqueur used in the Adelita mentioned above.
Agave - 

For a mezcal margarita, I like to cut the Cointreau with a little bit of agave to add extra depth of flavor and sweetness without making the drink taste too boozy. It should be just enough agave to mellow the lemon, but not so much that it starts to make the drink taste sweet. 




Smoked Chili Salt - 

The addition of smoked chili salt entices all the senses. Not only does it add complexity, and savory depth to a mezcal margarita, it also enhances the cocktail's visual appeal with its pleasant contrasting ombre hue kissing the glass like a sunset in the desert.




The aroma of smoked chili salt engages the olfactory senses and prepares the drinker for the symphony of flavors that they are about to enjoy in their mezcal margarita.




Tip: Only salt one side of the glass so that the drinker has the option of whether to enjoy the drink with salt or without. Doing it this way also adds a nice touch of wabi-sabi to the presentation.




Scorpion Bitters - 

Mezcal, orange, and lemon all pair exceptionally well with spicy flavors. Scorpion Bitters are the most mixable spicy bitter because of their unique ability to allow the drinker to taste the cocktail through the intensity of the spice. This is a huge asset when tasting a cocktail full of nuance and subtle complexity like this mezcal margarita.
Don't know how to measure bitters? Check out our blog on all things bitters here: What Are Bitters?
Silencio - Mezcal Margarita
Ingredients
1.5 oz Mezcal

.75 oz Lemon Juice

.5 oz Cointreau

.25 oz Agave

2-3 droppers of Bennett Scorpion Bitters

Mesquite Smoked Chili Salt
Garnish
Dried Lemon Wheel
Glassware
Rocks Glass
Directions
Step 1
Run a lemon wedge across the lip of ½ of the rocks glass and dip that part of the glass in chili salt. Set aside.
Step 2
Combine all other ingredients in a shaker with ice.
Step 3
Shake and double strain into the salted rocks glass with one large ice cube.
Step 4
Garnish with a dried lemon wheel and enjoy.
Additional Info
ABV: 20.5%
Standard Drinks: 1.33
Calories: 175
Shop the Recipe
You may like these too...