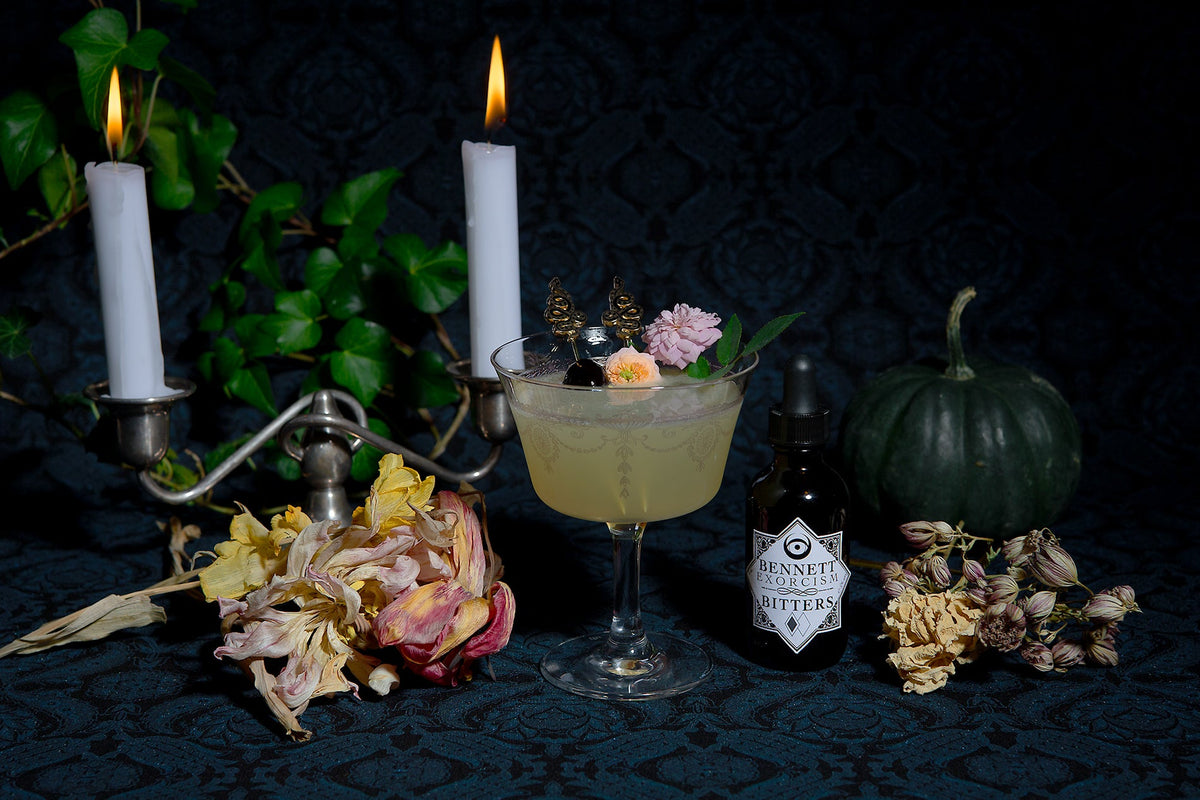 Corpse Reviver No.2 - Gin Daisy Cocktail
Once upon a time, cocktails were imbibed at an even greater rate than they are today. Back around the turn of the century, it would have been completely commonplace to start the day off on the right foot with a morning cocktail. If one needed to shake off a pesky hangover from the night before they could rely on a breakfast cocktail to get the job done.

The Corpse Reviver cocktail family was named for their purported claims to revitalize one's constitution with such power that they could raise the dead. The Corpse Reviver no. 2 is its most famous member, and is still drank today for good reason.

The bitter and mysterious flavors of absinthe dance with the bright and floral liqueurs, to blend into a refreshing, yet Herculean cocktail. The Corpse Reviver no. 2's complexity and nuance is beloved by crowds and connoisseurs alike, making it a great intro for those new to cocktails. I have converted many a wine drinker to the church of cocktail with this dangerously drinkable concoction.

Whether you want to raise your spirits or raise the dead, an exorcism couldn't hurt. Exorcism Bitters increase the botanical nature of the Corpse Reviver no. 2. They add depth, dimension, and harmony, PLUS an ephemeral and heady uplifting quality.

So this Halloween raise a glass and the dead and raise the dead to a glass with this chilling libation.
What is a Corpse Reviver no. 2?
The Corpse Reviver no. 2 is the second of at least four Corpse Revivers, all of who get their name for their ability to revive a hungover individual after a night of deep drinking. Yes, the Corpse Reviver no. 2 is a classic cocktail and so-called "hangover cure." As crazy as it might seem to prescribe more drinking as an antidote to over indulgent drinking, this concept still exists today in the form of Bloody Marys and Mimosas. 
Unlike mimosas, however, the Corpse Reviver no. 2 is highly recommended as an evening or late night drink in the same realm as a Cosmopolitan or Margarita. In fact, given that those drinks share a lot of the same ingredients, if you're a fan of either one, the Corpse Reviver no. 2 might be for you.
What's the best gin to use for a Corpse Reviver?
The Corpse Reviver no. 2 is a refined cocktail; meaning that ingredients and measurements matter a lot in the outcome of the drink. The overt herbaceousness from the absinthe and Lillet teeter-totters with the sweetness from the Cointreau and the bright, lively zestyness of the lime. 
For this particular application, we would choose a Scottish gin because they are exceptionally well balanced. A gin like Hendricks or The Botanist won't sway the flavor profile of your Corpse Reviver too far in one direction or the other. Instead, a Scottish gin establishes a healthy foundation that supports the other ingredients so that they can harmonize together beautifully. 
How to Use Absinthe in a Cocktail
Even though relatively few cocktails ask for absinthe, it is an important ingredient to have close at hand, because there really is no replacement for it. Such is the case for the Corpse Reviver no. 2, which must be made with absinthe. With such a powerful flavor and aroma, too much absinthe can easily blow out the profile and balance of a drink, which is why it is typically used in small amounts. 
Three main ways to use absinthe in cocktails:
Rinse: Before mixing the cocktail, pour about ¼ oz of absinthe into the glass that you'll be serving the cocktail in. Swirl it around so that the absinthe coats the entire bottom and sides of the glass. Discard, or use to coat another glass.
Spirtz: Fill a small atomizer with absinthe. Spritz 3-4 sprays into the glass before the drink is poured, or over the drink after it is poured. This is an effective way to capitalize on the strong aromatics of the absinthe without throwing off the flavor of the drink. It also looks really fancy which is always a bonus.
Dash: Fill a dasher bottle with absinthe. Dash 2-3 dashes into the cocktail as it's being built in the same way that you would add bitters. 
Cocchi Americano vs. Lillet Blanc
The original recipe for the Corpse Reviver no. 2 was made with Kina Lillet. Unfortunately the Lillet company ended their 99 year long production of Kina Lillet in 1986 and replaced it with Lillet Blanc. 
The general consensus among the bar community is that Cocchi Americano actually tastes closer to the original Kina Lillet than Lillet Blanc. Because of this, many modern mixologists actually make their Corpse Reviver no. 2 with Cocchi Americano. 
We've never personally tried Kina Lillet so we can't confirm that it tastes more similar to Cocchi than Lillet Blanc. What we can tell you is that flavor-wise, Cocchi has a deeper, sweeter, and more bitter flavor profile than Lillet Blanc, which is lighter and brighter. 
The conclusion is that they both work to make an excellent Corpse Reviver no. 2. Lillet tends to be easier to find in general but if both bottles are available to you, you can choose based on your personal flavor preferences.
Corpse Reviver no. 2 Ingredients
We suggest you use organic ingredients whenever possible. Here's what you'll need to make this Corpse Reviver no. 2 recipe:
Gin - 

When making the corpse Reviver no. 2 we prefer Scottish gins because of their ability to work into cocktails without making themselves overly noticed. A Scottish gin like Hendricks, The Botanist, or Old Raj will form a solid base without throwing off any of the other flavors in the Corpse Reviver no. 2.




Fresh Lemon Juice - 

The Corpse Reviver no. 2 shines brightest with fresh squeezed lemon juice, as much of the tropical nuance of lemon comes from the oils in the peel. Those oils are completely lost in bottled juice and replaced with preservatives that are far less tasty.  




Squeeze while you build or pre-squeeze your lemon juice ahead of time, and it will keep in the refrigerator for about a week. We recommend always having a citrus press at hand as it's an essential bar tool. Here's the one we and many NYC mixologists prefer: Citrus Press




Cocchi Americano or Lillet Blanc - 

While some may argue which of these fortified wines is more true to tradition for use in the Corpse Reviver no. 2 recipe, since the bitter herbal flavor in both of these essential modifiers comes from chinchona bark, we feel that both are completely acceptable and equally delicious.  However, you are probably more likely to run into Lillet at your liquor store.




Cointreau - 

With all the options for orange liqueur out there, Cointreau has become the go to liqueur for daisy style cocktails like the Corpse Reviver no. 2. This is probably in large part because of its flexibility and pure orange taste. 




If you don't have Cointreau but have a different orange liqueur like Grand Marnier lying around feel free to try that instead. In this case, you can make yourself a Cadillac Corpse Reviver no. 2.




Exorcism Bitters - 

While the original Corpse Reviver no. 2 recipe doesn't include bitters, a couple droppers of Exorcism Bitters help tie the various flavors of the cocktail together even more harmoniously. Exorcism Bitters help connect the sweetness of the orange with the tartness of the lime, while adding its own warm, peppery notes.
Don't know how to measure bitters? Check out our blog on all things bitters here: What Are Bitters?
Corpse Reviver no. 2 - Gin Daisy
Ingredients
.75 oz Gin
.75 oz Lillet Blanc
.75 oz Fresh Lemon Juice
.75 oz Cointreau
2 dropperfuls Exorcism Bitters
Absinthe Rinse
Garnish
Brandied Cherry
Glassware
Coupe
Directions
Step 1
Rinse coupe with absinthe.
Step 2
Combine all ingredients in a shaker with ice.
Step 3
Shake and double strain into coupe.
Step 4
Garnish with brandied cherry.
Additional Info
ABV: 19.8%
Standard Drinks: 1.5
Calories: 171
Shop the Recipe
You may like these too...